Salmon

Salmon Photos
Well..it took some time to find the bigger fish. They were all smiles today!

Rockfish

Big Rockfish
Rockfish season starts off with a bang!! Getting some nice lingcod. Also, some great weather to start off the season.

Tuna

Tuna Photos
It's been a long wait but we're happy to see some TUNA!! Good job everyone on the boat today.

Halibut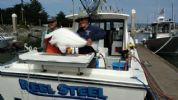 Halibut Photos
Halibut season is here!!! Looks to be a great start to the season.

Miscellaneous

CRAB FINALLY!!
Boy oh Boy...there's lots of crab out there. Here's Mike and his son Justin. Justin's first time on the ocean. He did GREAT!

Copyright © 2008 Reel Steel Sport Fishing. All rights reserved.
Web development by Page Weavers.