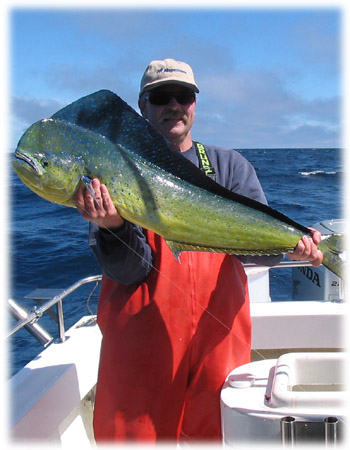 Info
Fishing on the Northern California Coast usually starts in May and ends in November. We run crab trips in November.
May- Halibut, rockfish, salmon
June – Salmon, halibut, rockfish
July – Salmon, tuna, halibut, rockfish
August – Salmon, tuna, halibut, rockfish
September – Tuna, salmon, rockfish, halibut
October – Tuna, halibut
November – Crab
Where we fish, and what we fish for, depends on current fishing regulations, what's biting and the weather. Fishing seasons vary from year to year depending on the run size predicted by Ca. Fish and Game. June, July and August are the best months for salmon. We have 2 different types of halibut. Pacific Halibut (Alaskan style) that we catch in 250-350 feet of water and California halibut that we catch on light tackle in Humboldt Bay. They're both fun to catch and delicious. For good eating though you can't beat rockfish and lingcod. We fish around Cape Mendocino about 25 miles from Humboldt Bay. It is a lightly fished area with lots of big fish and spectacular views of California 's Lost Coast . Tuna is our favorite though. They are usually caught 25 to 50 miles offshore in clear blue, warm water. We use live bait, when available, and light tackle when we can. It's hard to describe a wide-open tuna bite; you just have to experience it.
We catch sharks and rays in the bay. This is a great trip for the kids with lots to keep them busy and the water is usually quite calm. We call bat rays "mud marlin" because they can really pull.
We usually try to go crabbing before the commercial season starts. We almost always get our crabs (and boy are they good to eat).
What to bring:

Fishing License (www.dfg.ca.gov)
Warm Clothes
Seasick Medication
Camera
Lunch
Sunglasses
Safety First – Trips may be cancelled due to ocean conditions.