Salmon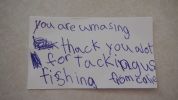 Salmon Photos
Finally some salmon. Great to see a family out fishing together. She is one good fisher gal and a pleasure to have on the boat. She left a message for Tim. See the next photo. That's why we love what we do.

Rockfish

Big Rockfish
What a fun day! Nice to see some lingcod in the box. They did a good job landing the pair!!

Tuna

Tuna Photos
It's been too long waiting for that tuna water to come in. They gave it a chance today and got one!! Hopefully it's only the beginning.

Miscellaneous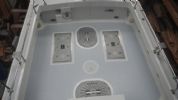 The New Deck!!
Here's the new deck Captain Tim has been working on. Turned out REALLY nice!

Copyright © 2008 Reel Steel Sport Fishing. All rights reserved.
Web development by Page Weavers.